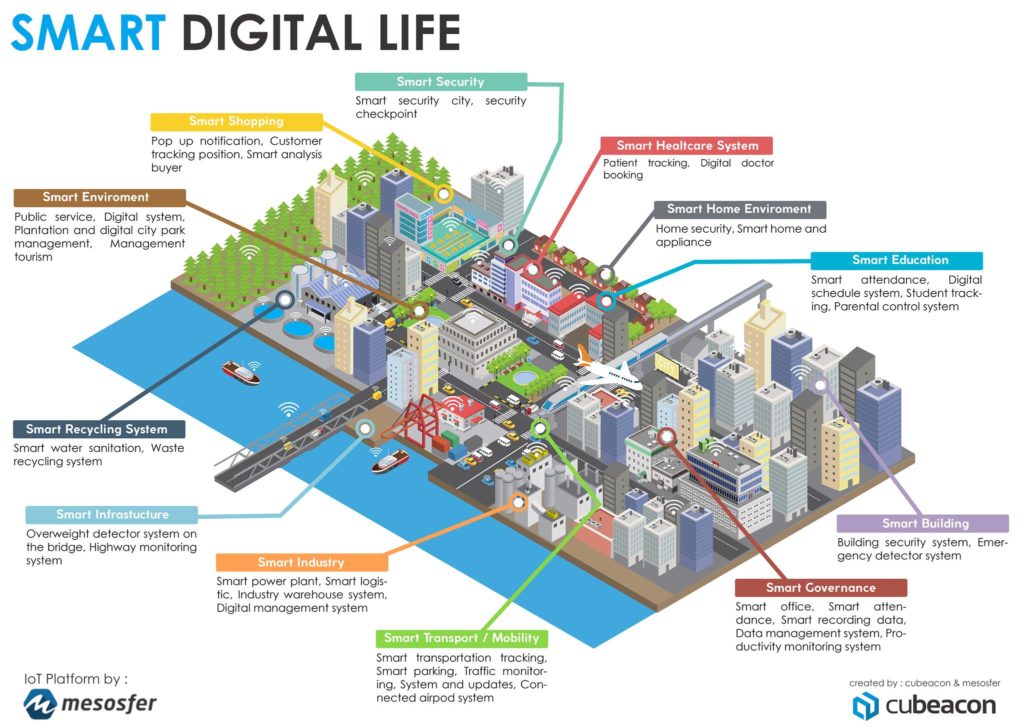 Infographic : Smart Digital Life Architecture
Why a city needs an integrated smart city concept. One of the main reasons is because the human population is increasing sharply. Predicted, the world population in 2050 will touch 8.5 billion people, of whom 66% are women, and 34% are men.
In 2015 alone, the world's population reached 6 billion people. Imagine, within a period of ten years, the population increased by 2.5 billion. WOW!
"Increased population encourages urbanization from village to city. The growth of urbanization within 64 years, from 1950-2014 reached 523%, "said Adhitya.
Increased urbanization of course gives birth to urban or urban problems. Starting from waste, education, transpotasi, socioeconomic, natural disasters caused by human activities, and health. All these problems can be found in the younger generation of cities in Indonesia, such as Jakarta.
"On the other hand, an increasingly modern and well-established society, has a myriad of expectations, such as a comfortable living environment and work, adequate public areas, easier travel, shopping experience, etc."
Thus, continued Adhitya, the solution to meet expectations and minimize the impact of urbanization is to present the concept of smart city aka smart city. What is that?
Smart city is a concept that explores an intelligent city order that plays a role in facilitating the public to get information quickly and precisely. In addition, the concept of smart city is also presented as an answer for efficient management of resources.
"You could say, the concept of this smart city is the integration of information directly with urban communities," said Adhitya.
Six Smartcity Services
In its development, there are six Smart City services that can be developed in a city, among others:
1. Smart Governance
Administration of public services based on information technology that interact government interaction with citizens and business sector, and decision-making based on real time data.
2. Smart Economy
E-business and e-commerce services that boost the economy of the people
3. Smart Mobility
Intelligent system implementation to support public transport, logistics, and convenience services for car, bicycle, and pedestrian users.
4. Smart Environment
Utilization of renewable energy sources, monitoring systems and pollution control, green building.
5. Smart People
The intelligent community because of the opportunities of education and the development of extensive skills with the application of systems and technology
6. Smart Living
Life pattern or lifestyle is smart, healthy, and safe, supported by good environmental quality dwelling.
Smartcity also includes supporting elements called smart environment, ranging from citizens, applications, services, infrastructure, industry, government, and regulation.